Lurking behind every work of art is a story. Sometimes it's as brief as a breath, unconscious to even the artist and of no importance to the viewer. At other times it's epic, looms large and the viewer is supposed to "get it." Epic stories are familiar to us through novels, movies and television, but they also exist in painting. A fine example is Jacques-Louis David's 'Coronation of Napoleon' (1805-06); a majestic 20 by 30 feet painting extolling the Notre Dame ceremony that officially made Napoleon an Emperor.
In fine art, representation, rather than abstraction, is the domain of storytelling. But as a painting can represent only a single moment of action, as compared to the powers of the screen and the novel, the chosen image must encapsulate the idea of the whole or it fails. The 'Coronation of Napoleon' did this; not in portraying the moment when the Pope elevated Napoleon to Emperor by placing a crown on his head, but by portraying the moment when the newly enthroned Emperor did the same for Josephine, the Pope then only looking on. In one skillfully composed image David pictured the whole sof Napoleon's rise; the way he took power for himself by taking it away from others.
It has always taken enormous skill to represent a story in a painting—in a single image, no matter the size. But today, it's harder because our minds aren't trained to think this way. However, there are still visual artists who rise to the challenge and we would be hard pressed to find a better example than internationally recognized, award winning Julia Fullerton-Batten, a photographer who has exhibited in the National Portrait Gallery in London, the Centre Georges Pompidou in Paris, and the Museum of Contemporary Art Shanghai, who carries the honor of being a Hasselblad Ambassador (Hasseblad is the Aston Martin of cameras), and whose photographs are in the collections of the National Portrait Gallery in London and the Musée de l'Elysée in Lausanne, Switzerland.
Born in Germany to a German mother and British father, Fullerton-Batten grew up in Germany, then the United States, until in 1986, at the age of sixteen, her family moved to London. During this time her life was marked by fantasizing about bigger worlds, sensing new horizons, and dealing with teenage uncertainty. She also made the decision to become a photographer, introduced to the medium by her passionate, amateur-photographer father.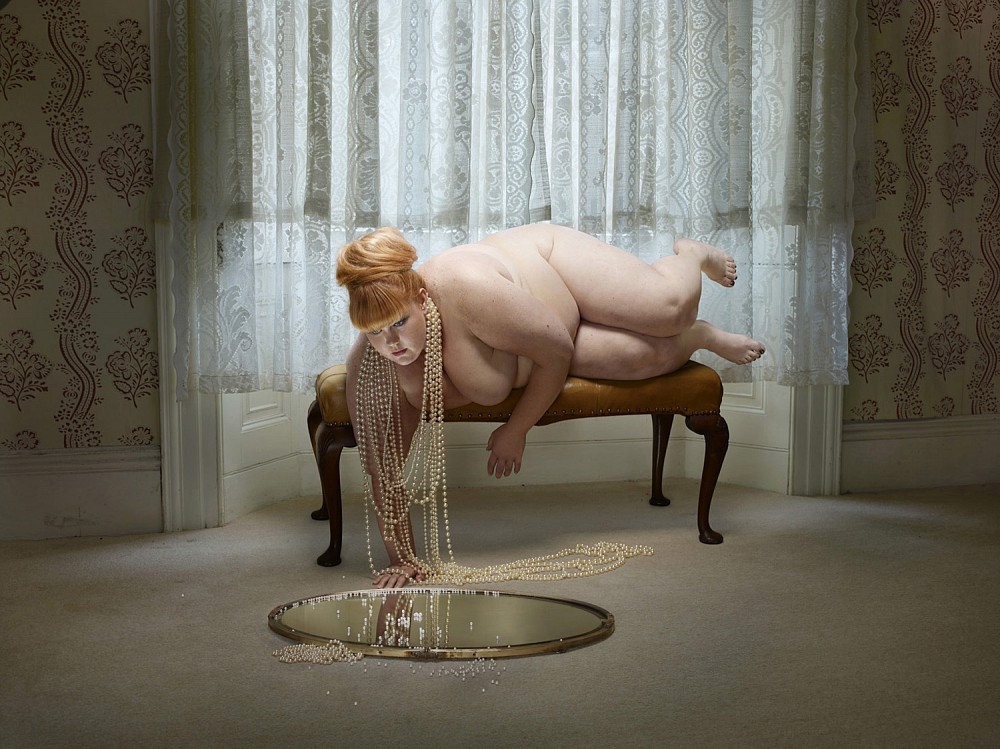 Today, Fullerton-Batten lives in London with her husband, a commercial photographer, and two young sons in the slightly rural borough of Chiswick where she gets inspiration from reading, being outdoors, visiting art galleries and living in one of the most culturally vibrant cities in the world. Her cinematic and painterly photography projects are all self-funded and involve months, sometimes years, of research, planning and execution to complete. Story and meaning are the crux of her art, in the series "Unadorned" (2012), featuring corpulent and obese nudes, she addressed our obsession with body image by staging her models in sublime settings in order to render them beautiful in a new way. In "Old Father Thames" (2018-2019), her most ambitious photo project to date and one that required a large team of assistants and multiple models, she recounted historical events associated with the Thames river, such as a time when Londoners were allowed to sunbathe on its banks.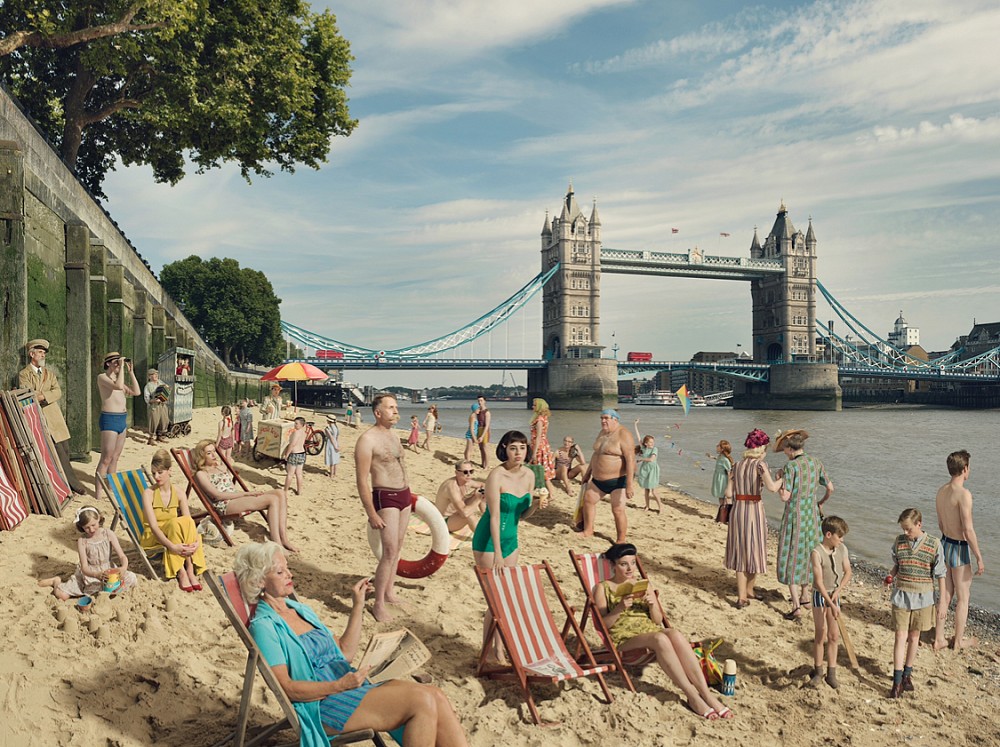 Though Fullerton-Batten began her career assisting commercial photographers and still does select commercial projects, she always knew she wanted to chart her own creative course and was fortunate to gain notoriety and win awards with her first independent fine-art project, "Teenage Stories" (2007). Partly autobiographical and redolent with the emotionally turbulent experiences of her parents' divorce when she was a teenager, the photographs follow a girl's difficult transition to womanhood and experiences with relationships. This led to other projects based on her own experiences, including "Mothers and Daughters" (2012) and their successes gave her confidence in, as she says, "going deep down within" for material. She has never looked back and, as she gained renown, the stories expanded into broader social themes and the scale of her projects grew.
Supporting and propelling the material she explores are her meticulously envisioned settings. Nothing escapes her notice and her production setups are similar to the cinema or stage. This is made possible as London has fascinating locations to hire, with many prop companies on her doorstep. When she finds a location she loves, she may still strip it of its contents—repainting or re-wallpapering walls, bringing in different furniture, dying curtains or clothing to get just the right shade, choosing objects, designing costumes, and giving direction to her hair and makeup stylists—in essence treating the setting more like a womb for her imagination, all to create the perfect atmosphere and mood. Much of her attention to detail comes from her mother's love of beauty, a mother who, Fullerton-Batten explains, was insistent on making every aspect of their lives beautiful, to the point of sewing all of her children's clothes (keep in mind this was in the 1970's and 80's) and dressing them like the siblings in the 'Sound of Music.'

Fullerton-Batten approaches photography much like a painter, with her attention mainly focused on what is in her imagination and how she wants to interpret it, rather than finding a scene to capture. This results in what she describes as "painting with light" and "tearing apart shadows and light," which she does with actual lights—lots of lights, often necessitating many generators because the demand of power is so high. This lends her images their surreal quality and invigorates her art with time-honored painterly values, something contemporary artists often don't know about or forget, thereby creating new possibilities for contemporary photography. You know she has succeeded when a viewer of one of her photographs asks, with a curious look, "Is that a painting?"
Like the masterful French film 'The Umbrellas of Cherbourg' (1964 and starring Catherine Deneuve), a musical with refined visuals and mesmerizing colors we tend to associate with painters or decorators, Fullerton-Batten confounds our expectations of photography. As if assembling pieces of jigsaw puzzle, she merges these with digital technology (her camera is the Hasselbad H6d 100c, which she says is the best digital camera on the market), the production demands of cinema, her painterly wiles and love of beauty to create striking images whose sensitivity set them apart and can be appreciated from different angles or levels of experience.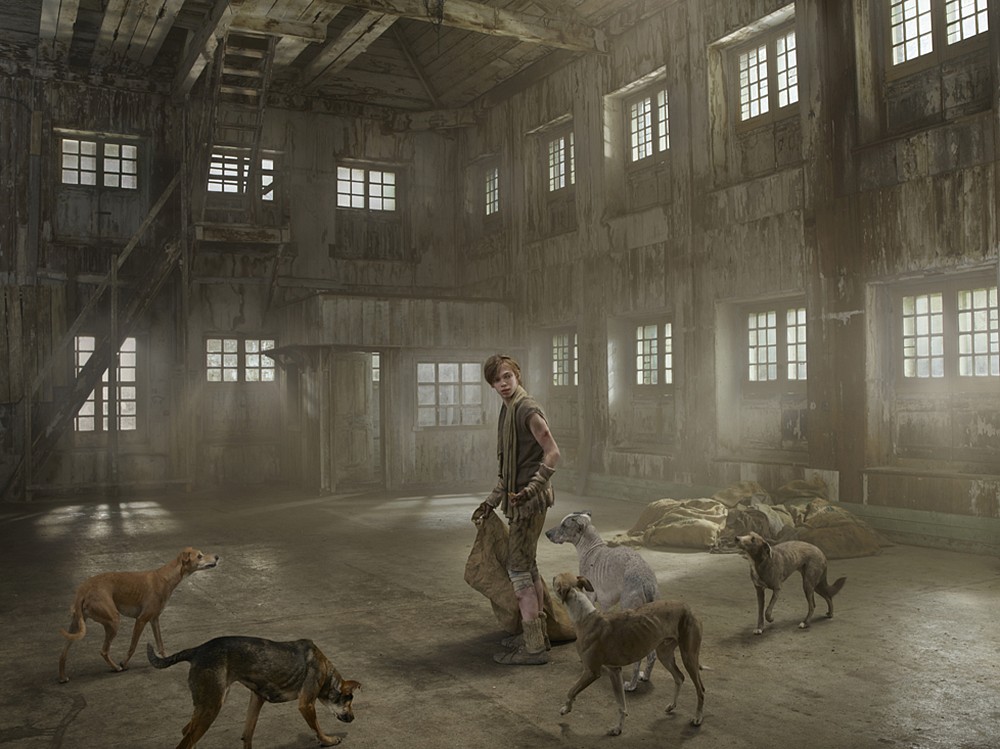 One final thing enhances Fullerton-Batten's art and this is her emotional range. In her photography, emotion manifests as mystery, tension, fear and alienation, but always with an overlay of empathetic exaltation. We see this easily in "Feral Children" (2015), a project based on the accounts of lost, abandoned, or kidnapped children who grew up alone, except for the company of animals. At first, we are struck by their wild alienation, then feel the strangeness of their connection to their surroundings, then, through Fullerton-Batten's deft emotional understanding, we sense they have survived by finding life and meaning because of their kinship with animals.
I discovered Julia Fullerton-Batten's photography while perusing the internet for artists to potentially represent. My demands were high as I have a reputation to uphold, but I also wanted artists with a fresh and different perspective. In addition, I wanted them to already have national and international exposure so together we could build more of the kind of recognition we desire and deserve. I wasn't expecting to stumble upon a photographer, as I'm known for showing painters, but I found exactly what I was looking for in Julia Fullerton-Batten. Now, I hope you will look at and pay close attention to her art.
Back to News